Contents
About the authors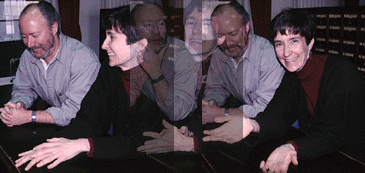 Photos by Bill Brawley, Dartmouth College


Patrick Lynch and Sarah Horton began working together in March of 1991 at the Yale University School of Medicine's Center for Advanced Instructional Media (CAIM). They shared an office the size of a closet and became close friends and colleagues. During that time they authored numerous multimedia titles together, Lynch as Director of CAIM and Horton as Designer/Programmer. They have co-authored several professional papers and have won many awards for software design, including the 1992 Best-in-Show Award from the Health Sciences Communications Association and a Gold Medal, Silver Medal and Award of Excellence in the international INVISION Multimedia Awards. They are also co-authors of Web Style Guide: Basic design principles for creating Web sites, published by Yale University Press. The Yale Center for Advanced Instructional Media expanded its operations in July 1999 to include Web design services for the Yale New Haven Medical Center.


Patrick Lynch continues at the Yale University School of Medicine as Design Director, Web Design and Development and Center for Advanced Instructional Media, and is also the author of an online web design column visualLogic, at his Web site patricklynch.net.


Sarah Horton is Multimedia Applications Specialist for Curricular Computing at Dartmouth College. She is author of a new book, Web Teaching Guide: A practical approach to creating course Web sites, available this November from Yale University Press. You can learn more about the book at webteachingguide.com.